Lana Harper really captures the physical feeling of magic.
The depiction of Thistle Grove will give readers the "Halloween Town" vibes, but a little less corny. Lana Harper's small town where real magic exists amongst the unknowing humans has a warm, apple-cider smelling, nostalgic magical feeling. When Emmy Harlow, our main character/witch, re-enters Thistle Grove after years of absence she feels a physical pull and push of magic welcoming her back. It was a small moment of the story, but it held such weight for me. Each time magic is present in this book, Harper weaves just the right words together that you almost feel the magic swirling around you.
Emmy Harlow is destined to be the impartial judge of a magical competition between the founding families of Thistle Grove. She dreads the obligation, but is determined to complete the month long task for her parents. It's a role she was born to play, and when it's over she is certain she will leave Thistle Grove for good.
Life is what happens when you've made other plans.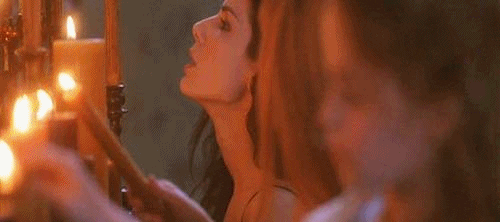 Meet Talia Aramov. She is what I'd call a hot and mysterious vixen. Talia is a competitor in the gauntlet, and surprises Emmy with the news that they've been "burned" by the same guy, Gareth Blackmoore. While Emmy is excited to get a little payback against her ex that drove her out of Thistlegrove in the first place, she quickly realizes that a chance at a sizzling affair with Talia is even more appealing.
Emmy's decision to flee from home after a messy breakup with Gareth was a painful choice for her. Aside from missing her family and best friend Linden, it also meant giving up all of her magic. In her grief, Emmy thought her life would be better this way. She'd slowly acclimate to Chicago with a new chosen "family". She didn't count on her visit back home to stir up doubt of her decisions. Healing her friendship with Linden, and finally facing her own pain begins to awaken Emmy. She realizes some hard truths about life, and realizing what home truly means. Not to mention the attraction to Talia that grows deeper and deeper with time.
"Payback's a Witch" has a wholesome feeling, full of friendship, romance, and self-healing.
Initially I was expecting "Payback's a Witch" to be a funny rom-com with a little big of magic woven throughout. I was pleasantly surprised by the more complicated nuances of Thistle Grove's people. These characters held deep emotional ties to each other and to Thistle Grove. Reading this book felt like a modern-day Hallmark movie, and I say that as a compliment. The romance story between Emmy and Talia is a very satisfying storyline with the witch gauntlet revenge plot adding an element of fun and excitement. Payback's a Witch is a magically enjoyable read.