Raise your hand if you love an alpha romance!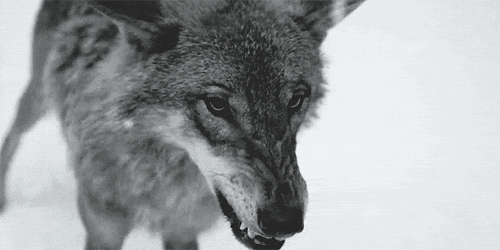 I got more than what I bargained for with Wolf by Rebecca Zanetti. If you know me, you I "stan" Zanetti. She is the queen of strong-sexy-dominant vampires and shifters. Her stories don't just pack the spicy romance, they also come with top-tier world-building and storylines. Even so, I didn't expect to be thrown for so many twists in Wolf.
Mia is an ex-FBI profiler from DC with a complicated past. As a favor to her friend, she stays in a small mining-town to assist him in his investigation into some unusual murders. A young woman was found stabbed with a silver spike through the throat. It's easy to trace the silver back to the mine which has long been owned by a rich and powerful family. That is how Mia finds herself profiling the tall and sexy, Seth. Seth is suspect number one. He's immediately setting off Mia's instincts that not all is as it seems with Seth and this town. Mia just couldn't fathom how big of a secret Seth was hiding.
Obviously, he's a werewolf!
We know he's a wolf. The title of the book is Wolf! Even so, Zanetti strings Mia along for about a third of the book. As an ex-cop, she's used to suspects trying to scare her off a case and get her to leave town. Seth, his brother Erik, and all of the townsfolk all suggest she leave. Some even threateningly. Needless to say, once Mia discovers who/what these people are, she can't just leave. She ignored her chance, and it's not just her safety to worry about, it's her mother and aunt as well.
There were several surprises in Wolf by Rebecca Zanetti. In my opinion, it's always great to be shocked by the killer in fiction. We're moving along, knowing we have the case solved then, BAM! It's not who you thought at all. Also, there's several suspicious people in this town that I'm sure Zanetti could branch off several intriguing storylines.
Mia is the true alpha here.
I liked Mia a lot. In the fiction/paranormal worlds we've been taught to know that the alpha wolf runs everything and asserts dominance with their partner. It's always in a smoldering way that is mostly for the bedroom. I was a little annoyed that Mia wasn't submissive once Wolf asserted dominance. She really needed to let her human-police mind go once she found her self knee deep in wolf politics. That said, overall I realized that was a good choice by Zanetti and worked in this story. That stubbornness in Mia was true to her character. Mia's tough attitude with criminals and with wolves was bad-ass.
I'm excited to see how Mia and Seth's story will end up in the next Stope's Pack book!